Terranos / Terranova
Integrating netscapes into nature
Our netscapes offer children of all ages plenty of space for any kind of climbing, crawling, balancing and other physical activities.
The highly accessible components are also the ideal place to get engaged in imaginative play or just to hang around and relax. Thanks to the transparent design, our natural netscapes and their young users are easily supervised.
The range of rope accessories can turn any space into a netscape. Whether straight or sloping, there is always space for a twodimensional net or a hand-over-hand climbing component. And if a tree should be in the way, we simply integrate it and make it the focal point of your play world. Spider nets, hammocks, as well as any other rope accessory, connected to the steel posts by height-adjustable clamps, complete the standard or made-to measure layout. Where Terranos, with its straight posts, delivers play diversity in a classic design, Terranova strives for an organic flow and elemental inspiration. Curved posts, elaborate colour schemes and ornate HDPE panels artistically frame Terranova's four elements – Fire, Water, Earth and Air.
Or what about something even more special? Sculptura's slanted posts are going to make your playscape even more adventurous, while protection in any weather is offered by our Terranos Shade.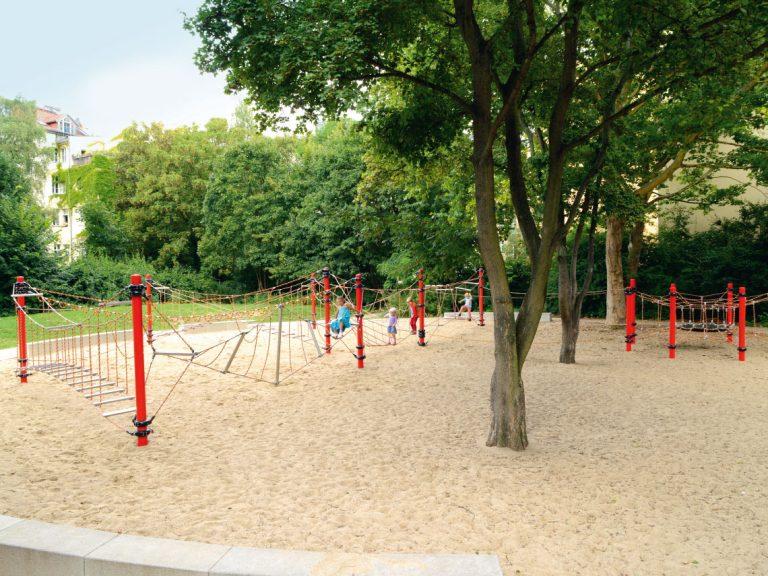 Terranos vs Terranova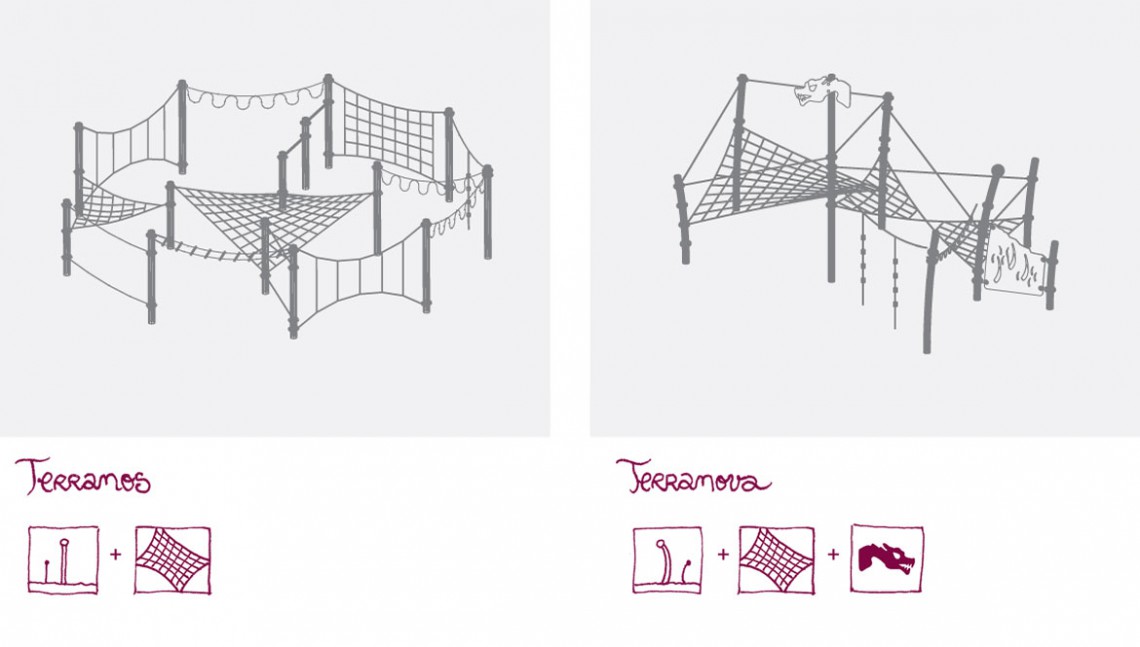 Terranos net landscapes
Straight posts and connecting elements.
Terranos is the most modular system of all within the Berliner product range. Endless climbing components based on rope near the ground make climbing and balancing adjustable to individual skills.
Most of the components used in Terranos are connected to the straight posts with the Frox connection eliminating shakles and thimbles from the reach of kid's hands. The Frox is connected to the posts with help of the Terranos clamp which is height adjustable on site. Colours for rope, posts and clamps can be chosen from the whole Berliner colour scheme.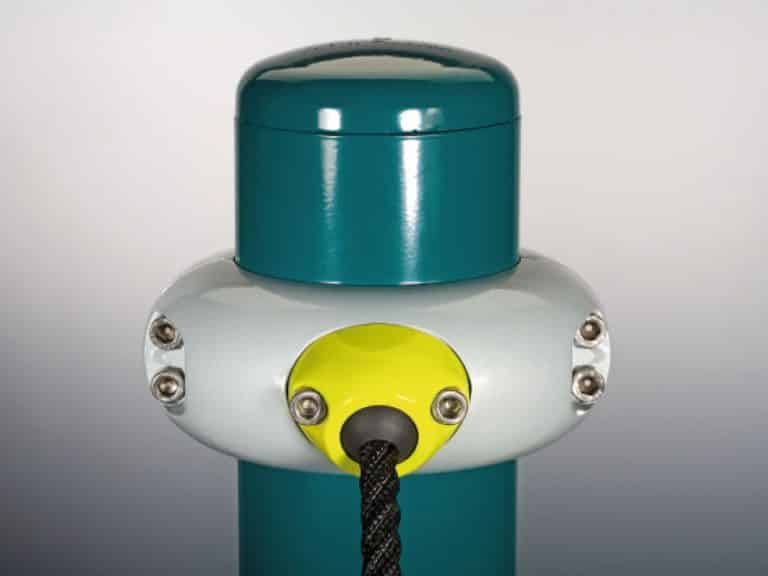 Terranova
Bent post and four stunning designs.
Terranova is a theme based fully modular low rope course system. While based on the same components as Terranos, Terranova scores with its organic appearance. Bent posts, contrasting clamp colours and the newly developed Chrox connector make Terranova a modern netscape package.
The four themes earth, fire, water and air give Terranova the right look whether you want to let it stand out from nature or blend in with it. Terranos structures are available in a Terranova theme as well.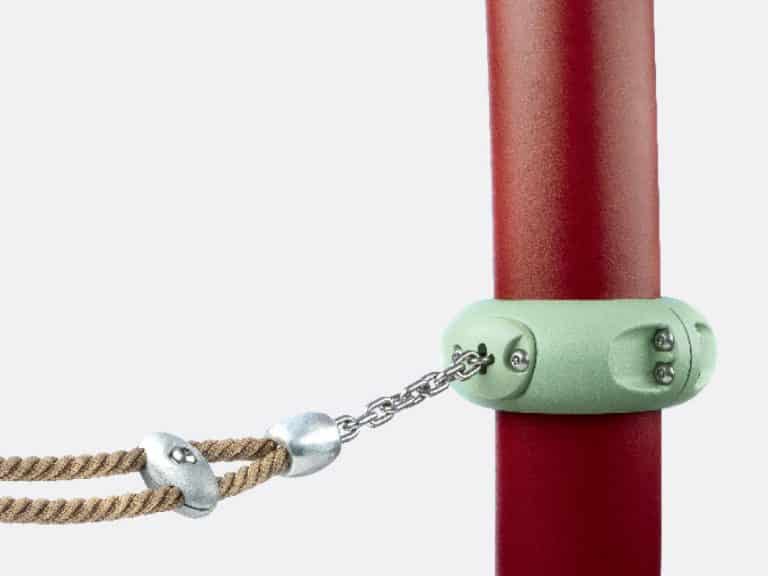 Design your own Terranos/Terranova playground!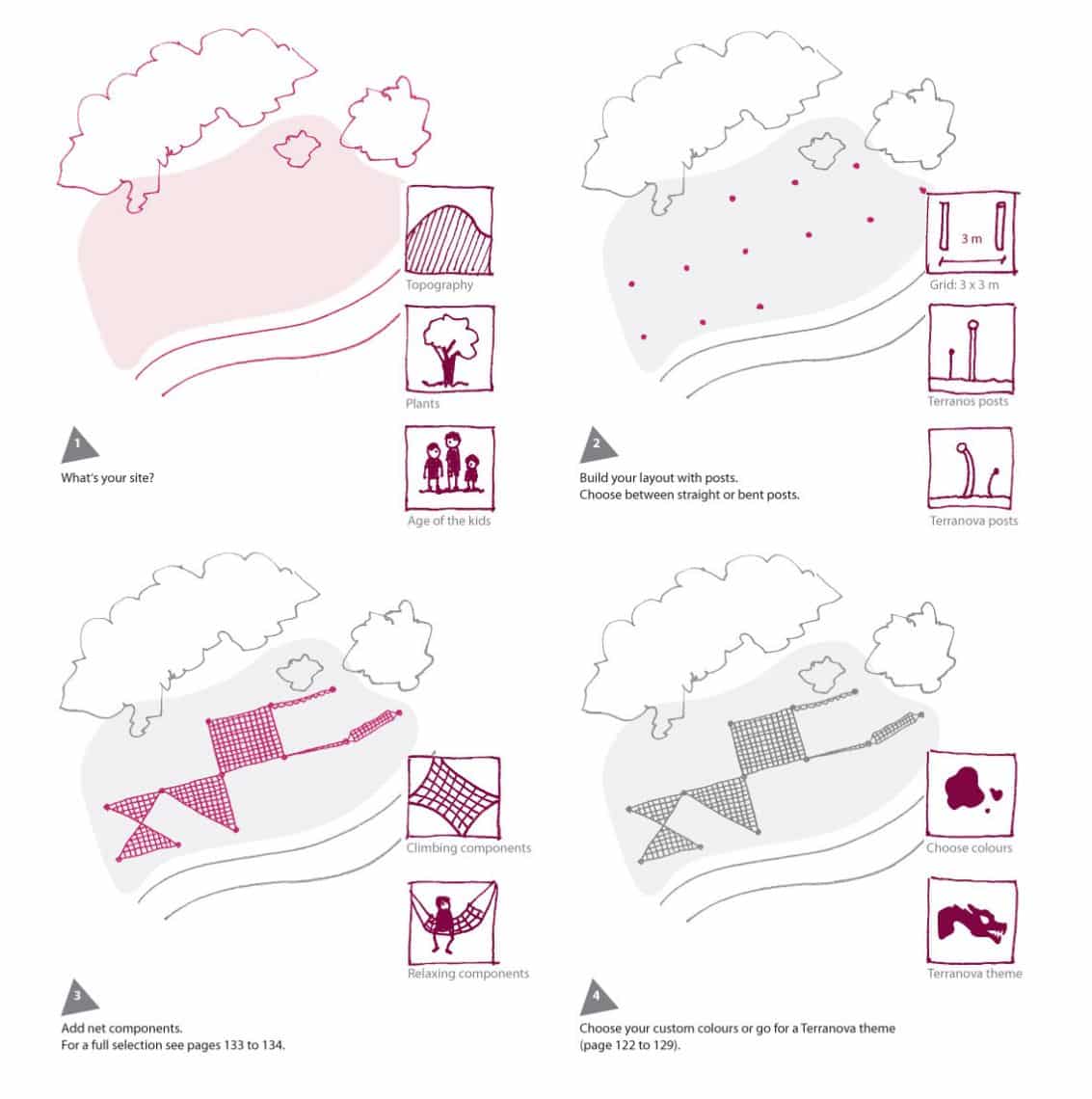 Posts and connections
The straight posts emphasize Terranos' classic-cool look.
The zinc-epoxy-polyesterpowder-coated steel posts with an outer diameter of 133mm ensure longevity in any climate. Four different post tops are available. The Terranos clamp is the most important technical element of our netscapes. The special design ascertains structural integrity while its height-adjustability helps customization and accessibility. The Frox rope-connection-system makes sure it's a secure play environment for users' hands.
The organically curved steel posts of Terranova, with their innovative, hand-flattering surface textures, offer a secure hold for the ChroX connector. The height-adjustable stainless steel-aluminum construction facilitates proper installation and elevates durability even further.
Equipment
The nets are of course the essential component of a real netscape.
There are three different net forms available that can be integrated into the Terranos system. More accessories can be selected from a wide choice of bridges, hammocks, climbing ropes, rubber elements etc.following add-ons can be ordered for Terranos- and Terranova-Netsapes.

Elements for Low Ropes Courses
Low Ropes Cources are obstacle courses with elements close to the ground so the perceived risk is low, but still challenging to complete.
Low Ropes Courses are not so much about the thrills of individual sport, but about psychomotor learning and about teamwork in group initiatives. All that happens in a low-risk environment. The importance of positive social behavior and the ability to communicate can be experienced and the ability for risk assessment is getting playfully improved.