The Marriott Village in Orlando, Florida, is where three hotels converge into one village. Close to Disney, Epcot and other attractions, the hotels are home to vacationing families and other travelers. As you enter the circle driveway shared by all hotels, you'll find a beautiful fountain, and in the strip between the Fairfield Inn & Suites and the Courtyard Marriott is a Village Marketplace with plenty of dining, shopping and other conveniences for the hotel guests.

This area offers a focal point for families to gather after a day of fun, where they could shop and dine. However, the hotels wanted to expand it into a place where the kids could play while the rest of the family enjoyed the surroundings of the Village Marketplace. The Village Green, a strip of grass and palm trees 9 x 27 metres in the Marketplace, was developed into an innovative playground village using the Greenville product line that blended well with its surroundings.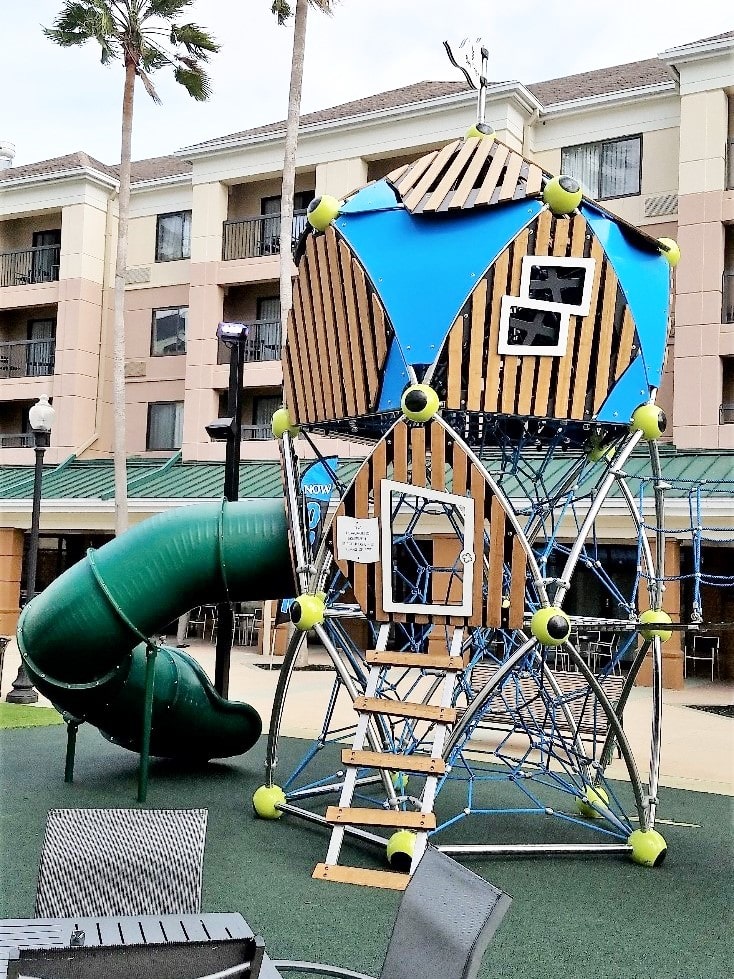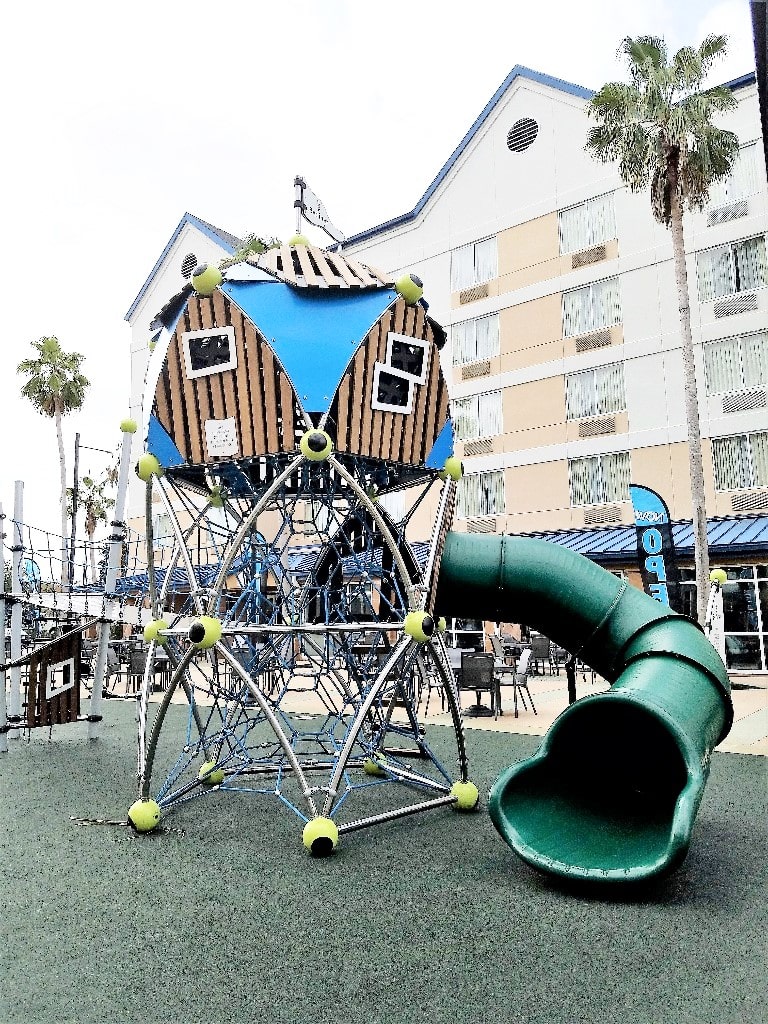 The Triple Boo gives the look of a classic play house with its bamboo panels, but it is truly more. Standing 4 metres high, the Triple Boo utilizes the space well by providing play space upward, maximizing play space on minimal ground area. It also contains a 3-dimensional rope climbing web beneath it for kids to climb in and up to the tree house. Climbing in a 3-dimensional net challenges a child's psychomotor skills, stimulates 3D thinking and provides numerous ways for a child to get from point A to point B. The open tube provides a barrier-free access to the structure, enabling play for all. And, the bamboo panels, which look like wood, offer greater durability and are extremely wear-resistant.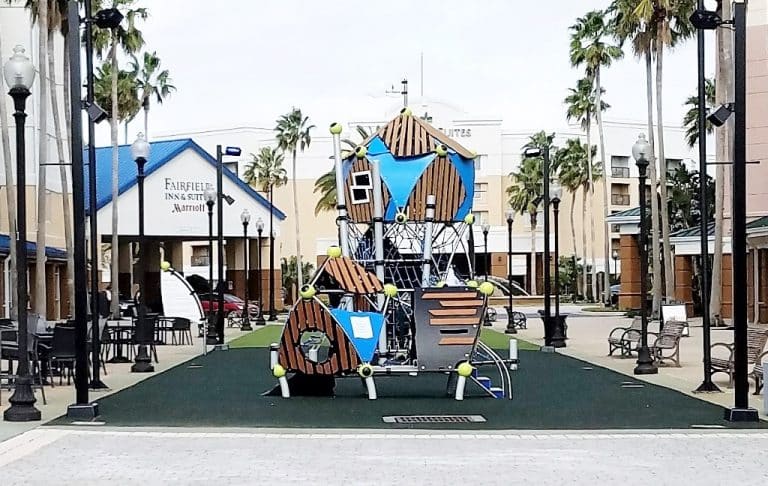 The Triple Boo playground village has been outfitted with plenty of activities to keep children active and challenged, including access nets, ladders, a hammock, an attached slide and an access bridge connecting to the Splash.

The Splash, another bamboo-paneled rope play house, offers more play area for children ages five and older. It is a nice transition from the Triple Boo, ascending down the two access net options to ground level activities, such as the tic-tac-toe board and hammock, and the window panels that created the magical playhouse. The hammock also offers easy transfer and a barrier-free access. Parents love the transparency, which gives them time to enjoy their coffee and still keep an eye on their kids.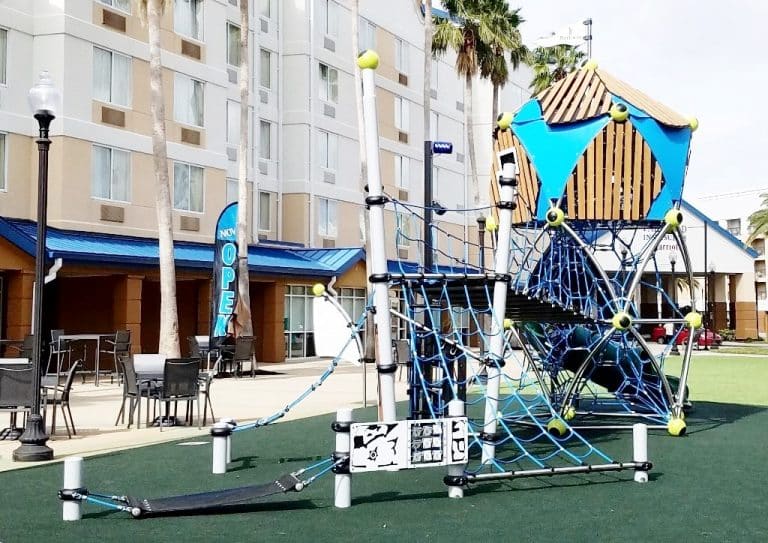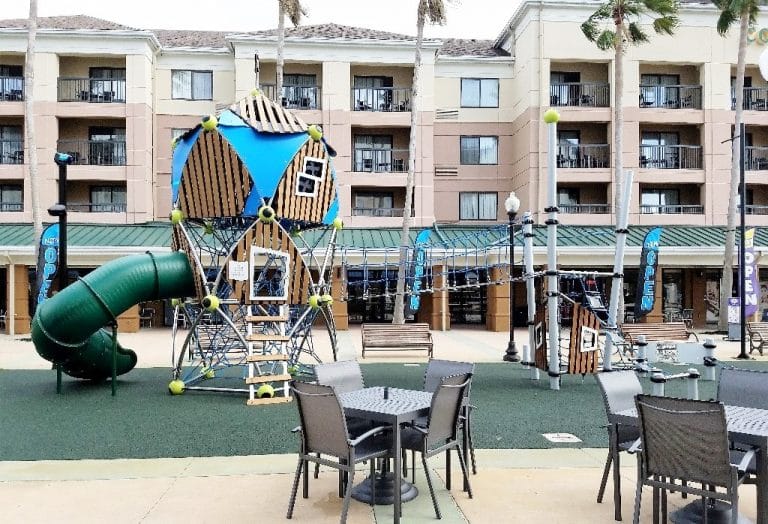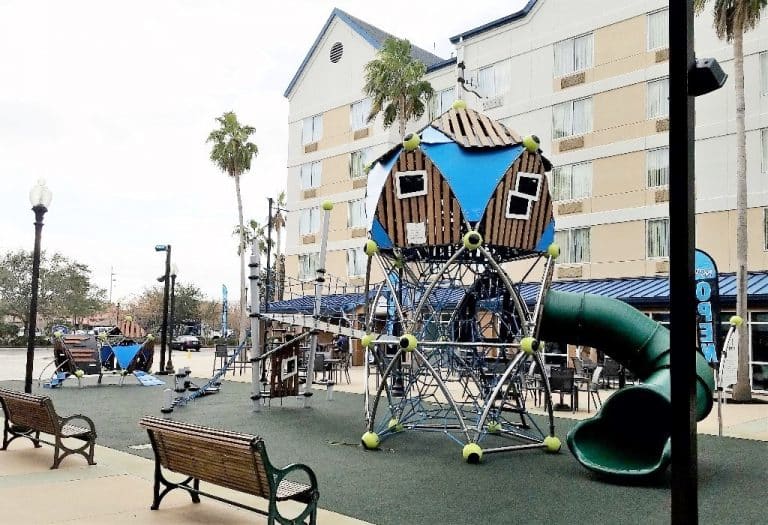 The Spooky Rookie, another bamboo playhouse in the village, is designed specifically for younger children from 3 years of age to foster early motor development. Again, plenty of play activities keep the younger children busy and challenged, including a climbing ramp, climbing wall, window to stimulate their imagination and other play functions such as a tic-tac-toe board and memory games. All of this activity is packed into an inviting and imaginative design to keep these youngsters energized, safe and happy.