Since last year's late summer, the new playground called Park'N'Play towers above Copenhagen's harbour scenery in bright red. What is special: it is located 24m above sea level on the roof of a car park and thereby sets new standards in the way people think about designing public spaces.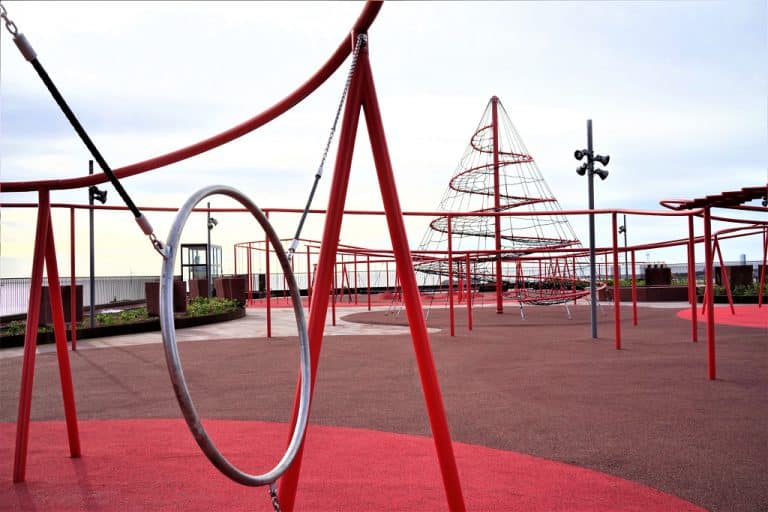 This project's challenge was to create centrally located parking facilities that optimally integrate into the surroundings of the modern Nordhavn city district which is characterised by luxury and lifestyle. The architecture firm JAJA Architects solved this challenge in cooperation with UNO and Berliner Seilfabrik by designing a building that 'does not only need space but simultaneously also provides space', explains Kathrin Susanna Gimmel, the leading architect and co-founder of JAJA. The result is a car park which has a multifunctional character due to its extraordinary façade and roof design.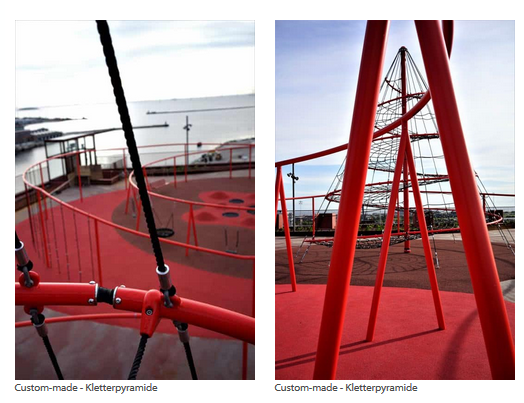 Inspired by the staircases on the exterior of the iconic Centre Pompidou in Paris, a flight of stairs rises up from the ground floor across the long sections on the north and south side of the car park up to the roof. The red handrail of the stairs continues on the roof and is integrated like a 'red thread' in the various play structures. It thereby serves as a key element in the swings, benches and monkey bars. It finally leads visitors to the absolute highlight of the rooftop playground: a nearly 8m-tall rope jungle gym by the company Berliner Seilfabrik.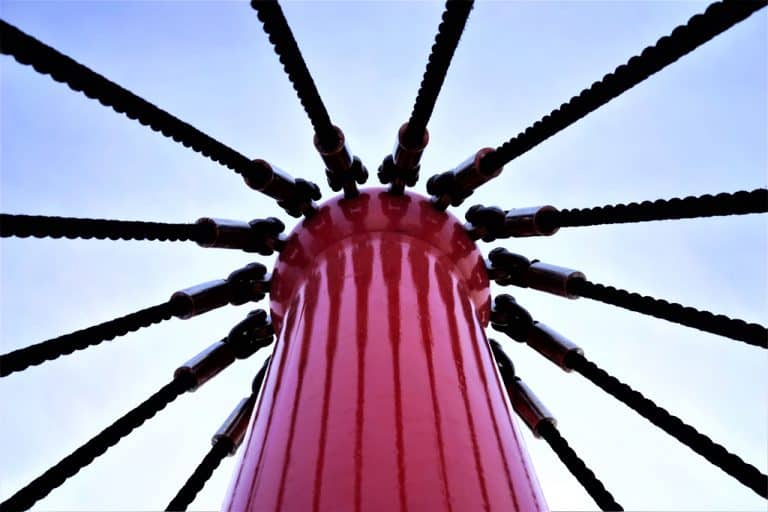 The ascent is made via a black flat net that winds around a mid-mast like a spiral and gets narrower and finally tapers off towards the top. The idea of a 'red thread' is also continued in this structure: In this case, it runs through the outer side of the flat net as a curved steel pipe and is a fastening element for the rope web at the same time.

'The challenge in constructing the pyramid was to use the existing roof structure as a solid anchor without damaging the properties of the roof's cladding', says Marius Kotte, Director of the Berliner Seilfabrik's department of Construction & Development. 'The solution was the large number of a total of 16 anchor points. That way, the arising tensile forces are optimally distributed and the permeation of the roof structure was minimised.'
It is also noteworthy that the structure only has a maximum fall height of 2.10m despite its total height of nearly 8m. That is thanks to its shape: as the flat nets are wider at the bottom than at the top, a net would always catch you should you fall.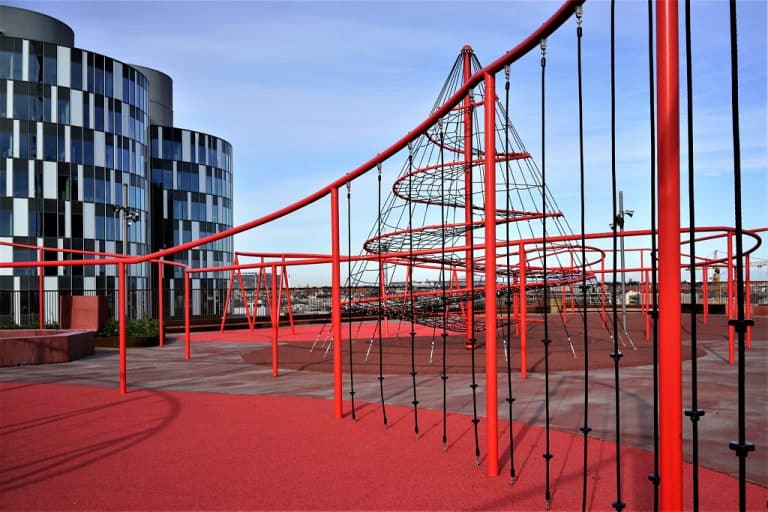 No one doubts that the rooftop playground is a total success. 'There are always people up here on the roof,' says Gimmel, 'even on a cold winter's day in December.'