On the 22nd of June, the Geoparc de Percé in Quebec, Canada opened the gates to the new indoor playground: a huge, three-dimensional rope-net landscape in the shape of a water world! The idea of the design, which stems from the minds of the architects Groupe BC2 from Montreal and which was implemented through the collaboration with Berliner Seilfabrik, was to imitate the geographic surroundings. As the town Percé lies directly on the eastern coast of Canada, where the landscape is massively characterised by the steep cliffs and impressive rock islets, a correspondingly diverse and unique net landscape emerged.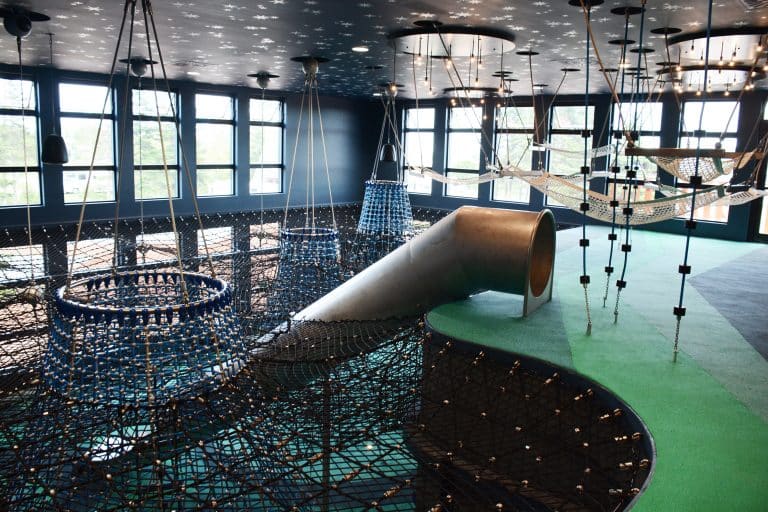 Two black space nets, which span the entire area of the room, separate the room into three levels and thus let the sky appear above, the marine world emerge in the middle and the bottom of the sea take shape at the very bottom. The three levels are connected by three conical net-funnels, which are greatly reminiscent of the rock formations that protrude from the water off the coast of Percé. Above the funnels, you can climb from the "sky" to the underwater world all the way to the ocean floor. For those who want to reach the bottom quickly from the very top, there is a tunnel slide which takes you directly to the ground. Between the middle level and the ocean floor, there are also climbing ropes, which remind you of underwater plants. Hammocks are attached directly beneath the ceiling on the top level. Here the kids can climb inside and get to experience the sensation of floating in the air.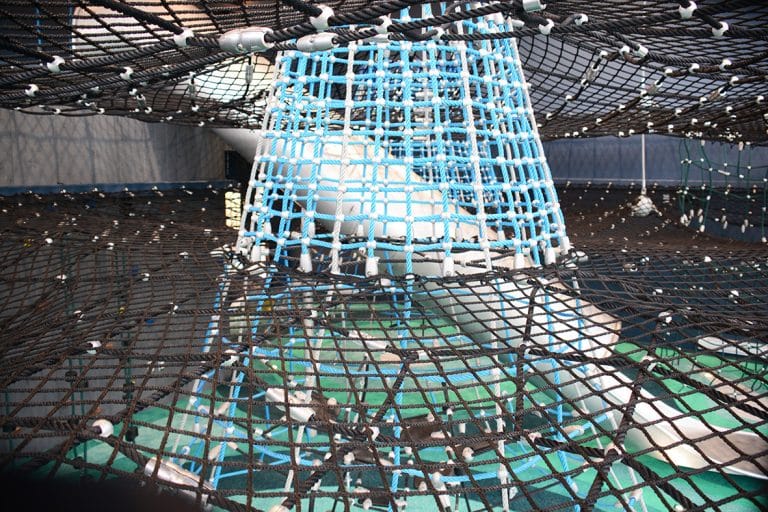 The reason for a climbing landscape, which is almost entirely made from rope, lies in the intention of the client. Geoparc absolutely wanted to make the illusion of walking over water become a reality. The mesh of the area nets is made in a way, for this to become possible and at the same time, an appropriate climbing challenge is provided for children. There were also challenges in implementing the climbing landscape. "Enclosed spaces are often a special challenge regarding the planning, as the space is clearly predefined and thus inflexible", explains Marius Kotte, Architect and Head of Construction and Development in the team of the Berliners. "This affects the accuracy of fit of the nets as well as their connection points, which have to be set accordingly." In order to ensure the required stability, screw straps were thus screwed directly onto the steel beams of the building.
Since the opening, more than 200 kids have been all over the net landscape every day. "We are really very happy", says the President of the Geoparc de Percé on ICI Radio Canada. "Percé already has a lot to offer, but we were searching for tourist attractions which are also attractive during bad weather. We now have something to offer year-round with this indoor offer."